About us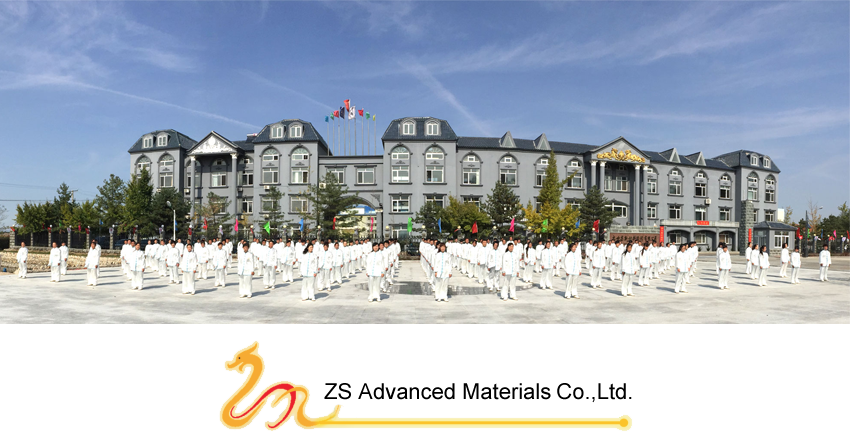 ZS Advanced Materials Co, Ltd (predecessor as Donggang City Dongfang High-tech Metal Materials Co., Ltd. ) was founded in October, 1996 and located in Beijingzi Industrial District, Donggang City, Liaoning Province, China. It is one of the domestic professional enterprises with qualifications of titanium manufacturing license. It is the council unit of Titanium, Zirconium and Hafnium Branch of China Nonferrous Metals Industry Association
The total assets of the company is 260 million RMB, total area is 68,000㎡ including building area of 32,000㎡The company has branch factories of Master Alloy, Titanium Alloy Melting, Titanium Alloy Pipe and an Analysis and Testing Center. It is a joint-stock enterprise and a professional manufacturer along with non-ferrous metal development and sales of multivariate master alloy, titanium and titanium alloy ingot (bar), seamless titanium and titanium alloy pipe
of petroleum and natural gas.

There are 300 employees including a technical R&D team of 56 professionals. The company has declared 28 invention patents and obtained 17 national invention patent certificates, 15 of them are for master alloy which success-fully substituted imported products, and the other six titanium alloy pipe patents filled the gap in China. One national invention patent for the threaded joint of metal-sealed titanium alloy pipe with three-stage anti-sticking section lays a solid foundation for the application of the company's titanium alloy pipe.In 2016, the Titanium alloy oil well pipe produced by ZS Hi-tech Co., Ltd. was successfully tested for the first time in the CNOOC experimental well base, laying a solid foundation for the sale of Titanium alloy pipe. The company possesses more than 400 sets of advanced processing facilities, inspection detection equipment and technical R&D equipment
The company has always adhered"advanced science and technology, high-quality and efficiency, customer satisfaction and continuous improvement"as the quality policy. Manufacturing processes are strictly in compliance with ISO9001 standard quality system requirements. The company has obtained PED Certificate, API Spec 5CT Certificate. GJB9001B-2009 National Military Standard Certificate,ISO9001:2015 Quality System Certificate and ISO for Environmental Management Quality System Certification.ISO14001:2015 Chinese and English Certificate, Occupational Health and Safety Management System Certificate OHSAS 18001:2007 Chinese and English Certificate and pressure piping components of non-ferrous metal pipes manufacturing license.
ZS Advanced Materials Co, Ltd, sincerely welcomes leaders, guests, and industry friends coming here to guide,visit and cooperate with us. We will work with you to greet the future with reliable products and attentive service.